Dunedin, Florida
Dunedin is a quaint Florida Gulf coast city with a beautiful Main Street lined with delicious restaurants and lovely shops. If you stay in Dunedin, not only can you enjoy the friendly downtown, but you will be able to visit and access a lot of other nearby cities and attractions. Dunedin is just a bit north of Clearwater, Florida, in the Tampa Bay area, and it is also within drivable distance of Tarpon Springs.
First things first. I will confess I had a bit of a hard time learning how to say the city's name correctly. I tried to repeat it a few times before recording, and for the most part, I got it but, I am confident I didn't say it correctly at least once or twice or maybe more times. For the record, the correct pronunciation is: "DONE – E.E. – DIN".
Got it? Perfect, now I can tell you all about our adventure.
We started our morning strolling the streets of Downtown Dunedin. We loved seeing so many people biking and walking the The Pinellas Trail that goes right through the city, but we noticed most places were closed. We knew we were early. So we figured that was the perfect time to just walk and admire this quaint town. After a bit of walking, we decided to walk to the 9th bar Coffee and Co. We had heard the coffee was divine, and to be totally honest, we were very much overdue for coffee.
Where to get Coffee in Dunedin
When we walked in, we fell in love. The 9th bar coffee and Co is a quaint little place just a few blocks from downtown. The design of the shop is modern and boho and right up our alley. The menu was displayed on a skateboard. The service was truly superb, and we enjoyed watching the barista do his magic as he prepared our lattes. He really took his time, and I'm convinced this is an art. The coffee was delicious, guys … so yum! We also had some chocolate croissants to go along with our coffee. Since we are kids at heart and we were waiting to cool down a bit, we couldn't resist playing a game they had on the table. We enjoyed it!
Then, it was time to keep exploring. Here are a few things that I loved about this city. First, the murals across Downtown Dunedin are ah-ma-zing. I have seen beautiful murals in my life, but these ones were top-notch.
Second, as a teacher, I also enjoyed seeing so many "little libraries." During this trip, I spotted several of them, and they were fantastic! What are they? They are part of a worldwide movement by www.littlelibrary.org. Basically, these cute, cleverly designed boxes can be found throughout the world, where you can basically borrow a book or deposit a book for others to read.
Honeymoon Island State Park
We decided to drive a bit and explore areas we couldn't reach on foot. So we got in our car and went through the causeway, looking for the #1 state park in Florida. Dunedin, Florida, is the Home of Honeymoon Island State Park, the #1 state park in Florida.
Honeymoon Island has more than four miles of beach to explore, and you can spot beautiful birds and animals throughout your stay. Many people enjoy birding, fishing, hiking, shelling, swimming, and sunbathing.
So why is it called Honeymoon Island? According to the Dunedin Museum, Honeymoon Island was formerly known as Hog Island. In the early 1940s, honeymoon type huts were built on the island for vacation, and the name was changed.
When you get to the park, you are given a pamphlet with information about the park. In addition, it contains a map of the area that makes it very easy to explore the park.
The amenities and the facilities are excellent. The bathrooms are clean and easily accessible. We also strolled past the restaurant that overlooked the water, and it looked great.
Then, it was time to sit down and enjoy the sun … To watch the video click here.
If you are visiting from out of town like we were, you probably don't have a bike with you, but the good news is that you can rent one. Look at these cool bikes you can rent with your entire family. I love that they have a rooftop so you can enjoy cruising the park even in the hottest times of the day. It took me a bit of time to back out of that spot, but we enjoyed exploring the park once I had the bike out.
Places to eat near Honeymoon Island State Park
As we were going back, we spotted a little restaurant on the side of the road. We decided to give it a try. As we walked towards the High and Dry Grill, we could see everything was open-air and overlooking the water. We could see people kayaking, SUPing, boating, etc. The breeze was magnificent.
Our server recommended the mango sorbet. I chose the non-alcoholic version, and it was heavenly. Pure mango goodness. Very refreshing after walking all day and sweet enough to keep me wanting more. We ordered cheeseburgers. I ordered mine without the bun. Bas also got a side of onion rings. The burgers were so yummy. They were flame-grilled and full of flavor. I tried one of Bas' onion rings, and they were super crunchy and yummy. We had a great time enjoying our food and watching people in the water, and the boats go by.
As the afternoon passed, we noticed a lot of locals hang out at this place. We eventually ended up chatting with a gentleman that has lived in the area for over 3 decades. He could spot which boats were speeding from a distance. We loved hearing his stories and getting to know more about the city through him.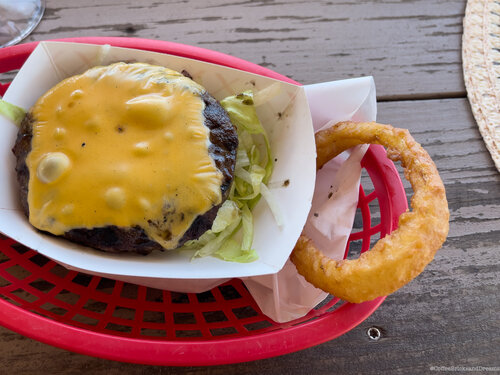 Anclote Key, Florida
Once we arrived at Anclote Key, we had about 45 minutes to explore the area, swim, go shelling, and enjoy ourselves. As we stepped off of the boat, we felt like we were on a deserted island. The only way to get there is via a boat or a chartered cruise. There were a few people there, but the place is so big there is plenty of space for everyone, and it never felt overcrowded.
Most people went shelling as there were excellent shells all throughout. We walked the area and explored it a bit. The sand was soft, and it felt wonderful to walk and feel the breeze. The water temperature was simply perfect, and the color was also beautiful. We walked and explored most of the time. As I was walking, I heard some people yell out "dolphin" so I turned around to see if I could see it and sure enough it was right there … dancing in front of us. It was so cool to see it.
We eventually got in the water. Look how clear the water was and how many shells you can find. We finished out the trip collecting a few nice shells. As we walked back to the boat, we spotted this friendly tortoise. The perfect way to leave Anclote Key.
Back at Tarpon Springs, we were greeted by tons of seagulls hanging by the Sponge Docks. They were fishing and focused. They did not pay attention to any human walking near them. They were doing their own thing. They were feasting. Such a cool thing to see too.
We ended up driving back to Downtown Dunedin for dinner. First, let's talk about the restaurant scene. You will not find many chains in this town, but you will find many fantastic local restaurants. Whether you are wanting, Italian, seafood, or general American cuisine, Dunedin has you covered. Many of the restaurants have outdoor patios and dining. Although we visited in the middle of the summer, we still enjoyed sitting outside and enjoying a bit of that breeze.
The Honu "A Lei'd Back Hawaiian Cafe and Tiki Bar
We had dinner at The Honu "A Lei'd Back Hawaiian Cafe and Tiki Bar," and we absolutely loved the vibe, the food, and the service. We decided to wait for a table to sit, take our time, enjoy our food and listen to live music. The food was super. Definitely check them out.
The next day we decided to check out Dunedin Downtown Market. It is held in the downtown area we had visited the day before and they are open on Saturdays from 9-2. We walked and talked to many vendors, and we eventually settled on having some yummy Thai dumplings. They were so yummy, and so many people were trying them. Since it was hot, we also bought Thai Tea, one with cream and one without. Bas loved the Thai tea with cream. For me, the one without cream was much more refreshing. It almost tasted like agua de panela con Limon that I have had in Venezuela.
We walked and talked to many vendors, and we eventually settled on having some yummy Thai dumplings. They were so yummy, and so many people were trying them. Since it was hot, we also bought Thai Tea, one with cream and one without. Bas loved the Thai tea with cream. For me, the one without cream was much more refreshing. It almost tasted like agua de panela con Limon that I have had in Venezuela. We sat on a bench nearby and enjoyed the live music.
We also stumbled across a beautiful booth. I knew I would spend some time looking in there when I spotted some gorgeous jewelry and some beautiful Colombian mochilas. Bas took a seat in front of the booth and just waited till I was done. Next, I met Paula and her mom. We talked for a while, and I really enjoyed talking to them. I bought these beautiful Frida Kahlo earrings. They are so light, so colorful, and some. I also couldn't help it, and I purchased this Colombian mochila. I have a few. I love the weaving, the colors, and the fact that they remind me of home. Paula told me that the next day she would be attending an indoor market in Tampa and that I should check it out. How could I say no? I Planned to see her the next day.
Coffee and Pastries in Downtown Dunedin
After eating yummy things at the Downtown Market, we decided to look for coffee. We stumbled upon a hidden gem in Dunedin. This perfectly decorated European-style cafe is called Veskolini Cafe. We were greeted by the owners, husband and wife, who work together to make this coffee shop a fantastic place to stop for a bite, for coffee, sodas, or desserts.
We had coffee, soda, and cream, a tremendous tiramisu, and some delicious baklavas. Everything was delish. We sat for a while, and we enjoyed our treats.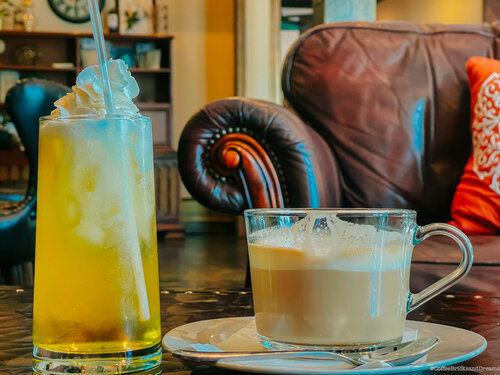 Armateur Works, Tampa, Florida
The next day we woke up early and drove to Armateur Works in Tampa for their craft and vendor fair. I immediately spotted Paula and fell in love with their products one more time. This time I ended up buying the Frida Khalo necklace to go along with the earrings I had purchased the day before. To watch the video click here.
Look at all of the beautiful things they have! I could seriously buy everything here, but I remembered I'm a teacher and can't. So, I now follow them on social media and will splurge every once in a while.
By the way, Armateur Works has amazing places to grab a bite, take a stroll and spend the day. There are a lot of activities including kayaking, walking, yoga, etc.
---
Island Excursions – Odyssey Cruises
Anclote Key Preserve State Park
The Honu "A Lei'd Back Hawaiian Cafe and Tiki Bar