This summer, we are visiting cities and towns around Florida. I have been living in Florida for almost 25 years. Although I have explored many cities, towns, and off-the-beaten paths, there is still so much more to discover. This blog post is full of great information but we also want to invite you to check out the video of this adventure so you can experience Mount Dora with us.
Where is Mount Dora?
The charming and unique town of Mount Dora is located in Central Florida. It is under 1 hour from Orlando and under 2 hours from Tampa. In my opinion, Mount Dora might as well be called "Mount Dorable." There are no high-rise condos, chain hotels, or chain restaurants, and we love everything about it.
What can you do in Mount Dora, Florida?
This cute little town is full of things to do. You can have a low-key weekend or an action-packed weekend all in this little area. Mount Dora has festivals almost every month; there are picturesque lakes and landscapes all around, and unbelievable sunsets, but above all, the hospitality and the warmth you feel from locals and business owners is what makes Mount Dora someplace special.
What festivals take place in Mount Dora, Florida?
Some of the festivals year-round include The Bicycle Festival, Annual Craft Fair, Plant & Garden Festival, Renniger's Antique Extravaganza, The Christmas Light Festival, Annual Scottish Highland Festival, Annual Arts Festival, Mount Dora Taste, Blueberry Festival, Seafood Festival.
Can you go Antiquing in Mount Dora?
Mount Dora is also known as a place to go antiquing. There is a humongous antique center called Renninger's right outside of town. Renninger's is our favorite place to go to look for antiques and unique finds.
The name Mount Dora comes from the fact that the town sits on a plateau that is 184 feet above sea level. That's definitely mountain-worthy in Central Florida.
Mount Dora has received many honorable mentions. It has been named one of the Top 100 Great Towns of America, One of the Best Romantic Escapes in Florida, One of the Best Small Southern Towns, and "Friendliest Small Town in Florida." Mount Dora is a perfect destination for a long weekend getaway.
How long should you spend in Mount Dora, Florida?
Mount Dora is considerably small and you will be able to explore it in about 2-3 days max. Bas (my husband) and I spent a lovely long weekend in Mount Dora. This should be more than enough time to explore this charming place. Mount Dora is a walkable town.
How do you get around while in Mount Dora, Florida?
Once you park, you can get to most locations on foot. You can also rent bikes using your smartphone. This time we walked everywhere. Bring a good pair of shoes. I enjoyed my flat sandals, and Bas wore his comfy Converse chucks.
Where to stay in Mount Dora, Florida?
We started the day out at the Historic Lake Side Inn. As soon as we went past the stone gateposts, we felt like we stepped back in time. The entire property is surrounded by huge moss-draped oak trees and acres of beautifully landscaped grounds that sweep down to the white sand shoreline of Lake Dora. This beautiful hotel was built in 1883, and it is the oldest continuously operating hotel in the State of Florida.
Breakfast at the Lake Side Inn in Mount Dora, Florida.
The BeauClaire Dining Room at the Lake Side Inn is a popular place for breakfast and brunch. On the weekends, it can get jam-packed, so be sure to plan accordingly. We put our name on the list, and we requested to sit on the wrap-around balcony overlooking Lake Dora. The inside dining room had no wait, but the wait time was about 45 minutes for the balcony. We decided to enjoy a leisure walk around the property. It was so relaxing to walk towards Lake Dora, take the scenery in, sit down, relax, and see some of the boats go by. You genuinely feel like you are in a storybook, surrounded by nature, animals, a magical view, and the beautiful setting of the Lake Side Inn. We were able to spot different kinds of birds and even a baby alligator. The breakfast was delicious, and the service was impeccable. I had the Farmer's Omelet, and Bas had the Eggs Benedict. It was so lovely to drink our coffee and enjoy our meal with that stunning view. After a long school year as a teacher, I immediately felt renewed.
Shopping and Dining in Mount Dora, Florida
From there, we explored the charming downtown. It is lined with historic buildings, quaint little stores and boutiques, coffee shops, antique stores, and more than 20 restaurants with all cuisine styles from Florida Classics, Seafood, Indian, Italian, and German. I loved exploring the little stores and boutiques. You can find very unique gifts and home decor, but above all, I enjoyed talking to the business owners or other visitors around us.
One of my favorite stores is The Checkered Moon. We have visited this store on many different occasions. The owner is a lovely lady from Chicago who has lived in Florida for a while. We have also met her sister-in-law, and they both are very courteous, caring, and attentive. They have beautiful things for all ages, and I absolutely love their Florida-themed merchandise. Simply adorable.
FYI Creations
One of the coolest stores in Mount Dora is FYI Creations. We talked to Ronnie, the owner, who told us that he and his wife make the famous chill sticks from driftwood from the springs. They love to give this wood a second life. This wood has been in the spring water for hundreds of years to be corroded like this to later become chill sticks in their new life.
When we asked Ronnie to tell us what a chill stick is, he told us that a chill stick is a decorative art piece that incorporates driftwood from the great outdoors embellished with ambient accent pieces to set a relaxing mood. The FYI gallery/store is set up to guide the visitor through a journey. Each room is different, and every item is unique and beautiful.
Are there any available tours in Mount Dora or Tavares?
We then took a short drive to the City of Tavares (on the other side of Lake Dora). There, we went aboard the magnificent Dora Queen Paddlewheel Boat. The Dora Queen is a luxury 80-foot New Orleans-style paddlewheel boat. We took a 2-hour afternoon cruise through Lake Dora while enjoying live music and talking to the crew about the area. Halfway through the cruise, we found ourselves looking at the Lake Side Inn from the water. Breeze in my hair, diet coke in my hand, and perfect weather on Lake Dora. What else could I ask for? It was a beautiful way to spend the afternoon.
Dinner in Mount Dora
After our delightful afternoon, we drove back to Mount Dora, and we decided we were in the mood for some yummy Italian food. We had dinner at Gianni's Italiano Restaurant. "Chef Gianni received his formal training in Ascoli Piceno, Italy, although his first teacher was his mother Giovanna in a small village of Comunanza, Italy." There are a few tables downstairs when you walk in, but we were pleasantly surprised to see the charming dining room upstairs. The service was superb. The fresh bread was to die for, and the dinner was delicious. I had the Chicken Pasta Carbonara, and Bas had the Rigatoni Bolognese.
Where to go for Mount Dora sunsets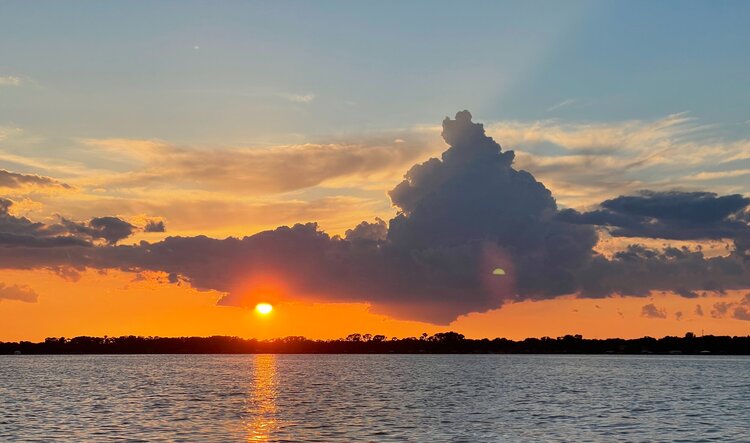 Unique places in Mount Dora
The next day, as we drove into Downtown Mount Dora, we saw the famous Van Gogh House. We had heard about it from locals, but we had not seen it yet. It is not hard to spot since it is a clear representation of the masterpiece "Starry Night". The locals shared that the house belongs to a couple who has a special needs son who loves the before-mentioned painting. Because of this, the family painted the entire place to represent "Starry Night" with a bit of Mount Dora twist. You can walk to it from Downtown Mount Dora. Look for the blue house.
The Mount Dora Village Market
We love Farmer's Markets, and the Mount Dora Farmer's Market is fantastic. The Downtown Mount Dora Village Market happens every Sunday from 9 – 2, and it has over 40 vendors. There is so much to see and to taste. We started out at the European Breads and Pastries stall, and we indulged in a delicious pastry and a breakfast muffin. We bought a few extra pastries to carry with us throughout the day.
Thim Thai
As we walked the market, we were captivated by the delicious aroma coming from a Thim Thai with a nice gentleman and sweet lady. The gentleman shared with us that his wife, a native of Thailand, has always loved to cook and that she genuinely enjoys sharing her cooking with everyone at the market. We can relate to that; after all, we are all about Cooking and Learning with Cook and Learn with Baba and Nano. Food means much more to us than just a meal. Food to us means connections, a good time, stories, etc. We decided to try the Pad Thai. The smell was amazing. Well, let me tell you … the flavor was even more impressive—hands down, the best Pad Thai we both have ever had. At this point, it wasn't yet 11 a.m, and we have had pastries and the Pad Thai. I have never had Pad Thai for breakfast, but I cannot wait to revisit Mount Dora and have this delicious meal again.
The Pad Thai left us thirsty, so we indulged in a delicious concoction at a juice stand. I had a Coconut Limeade Smash, and Bas had a Peach Mandarin Smash. Both, amazingly refreshing, natural, and delicious. We walked the rest of the market and enjoyed talking to many people.
The Broom Artist
We met Mr. Wayne, The Broom Artist, and his wife. He makes brooms from natural fibers. His brooms are functional, and some are decorative too. It was so interesting talking to him and learning how brooms are made the old-fashioned way.
By then, we had walked enough that we had a sweet tooth craving. We stopped at the Uncle Phil's Fudge, and I fell in love with the Dulce de Leche Fudge, although they had over 25 flavors to choose from. So delicious! We both truly enjoyed it. We also enjoyed talking to the owners Uncle Phil and his wife.
After spending the morning at the Village's Market, we walked and explored a bit more. We spent some time at Elizabeth Evans Park, a little park that overlooks Lake Dora. There was plenty of seating and some hammocks. We relaxed in the hammocks and watch the boats go by. As the weather got warmer, we started craving an iced coffee. We walked back into town, and we stopped at Alyson A Bake Shop. What a beautiful bakery. The decor was to die for. We had a coconut cheesecake and two iced coffees, both incredibly delicious and fresh. We hung out here for a little bit to cool down and relax before heading out on a boat tour with Rusty Anchor.
Rusty Anchor
has all sorts of excursions. In the past, I have done one of their 2-hour cruises and have thoroughly enjoyed them, but today we took the 30-minute cruise for $10 per person to spend some time in the water. The Captain was very informative and funny. We enjoyed hearing about the mansions in the area, the local fauna, and nature, and we even spotted alligators at the alligator cave. While on board, we enjoyed the pastries we had bought at the Farmer's Market earlier on.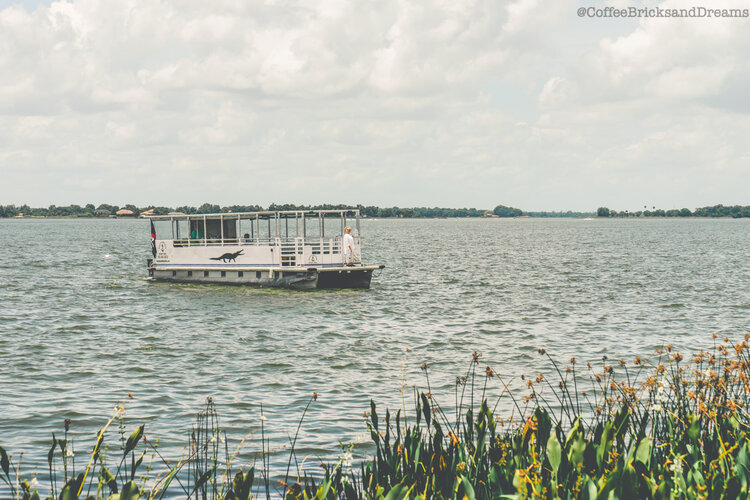 When we returned, we did a little bit more of walking and sightseeing. We truly enjoyed stopping by the Donnelly House and admiring the intricate detail of this historic home. The Donnelly House is a charming historic home in the heart of town. It has yellow siding, blue accents, and gingerbread house-style details that make it hard to miss. The home features Queen Anne architecture and has been included on the National Register of Historic Places since 1975. Currently, it is not open to the public as it is a Masonic Lodge but still a beautiful piece of history to stop by, admire, and maybe take a photo.
Palm Island Park
Not hungry, we decided to keep exploring. When we visited the Lighthouse park the day before, we saw a lovely boardwalk in the distance, and we wanted to check it out. Right before the entrance to the boardwalk, we saw a giant alligator statue honoring "Old Joe" – a 15 ft alligator that used to live in the area. The story about it is fascinating and super cute. When we finally got to Palm Island Park, we were amazed at the beautiful 8-acre natural preserve. The boardwalk we saw was only a tiny part of it as it extended all throughout the park. We also walked along the trails and experienced the beautiful recreational path. We saw alligators, turtles, birds, and magnificent views of Lake Dora. This would be a great place to bring your binoculars or your camera.
At 6:15 p.m., we headed towards the marina to meet our Captains for our Catboat Sunset Adventure. We got there a bit earlier and met a couple from Tampa who was visiting and celebrating their 31st wedding anniversary. We chatted for a while, and we enjoyed getting to know them. They also were enjoying the picturesque little town. We talked about the different things we did, and we were excited to try this new adventure together. They did the segway tour, and they highly recommended it. We told them about the Farmer's Market, and they were excited to try it next time.
As I stood in front of them, I wondered why did we sign up for this? I mean, I had seen plenty of alligators in the lake the last 2 days, and I also remembered the gentleman telling me about alligators at dusk. I kept telling myself Catalina, it's going to be ok… and just then, Captain Todd said the catboats are virtually unsinkable. That made me feel so much better. Still, I kept thinking about the alligators, but regardless, this experience looked like so much fun, and I decided to do it anyway. By the way, each boat has a dry box so you can put your cell phone, shoes, purse, etc. Do expect to get wet in this adventure, though!
We did the Lake Beauclair, Lake Carlton & Sunset Guided Tour. Although we had seen the sunset the night before, we were thoroughly excited to see it from the water. It had been magnificent the night before as we experienced it from the land, so we knew it had to be a unique experience with our front row seats from the water.
Once we got in the boat and backed out of our "parking" space at the marina, it was super fun. First, you start out pretty slow as everyone in the tour catches up. We first passed the Lake Side Inn, but we stopped for a few minutes to meet two resident gators that the locals recognize. These two were bigger than the babies we had seen earlier. You would think I panicked, but no, it didn't happen. I felt super safe in the catboat and enjoyed watching the alligators sunbathe from a distance.
From there, we followed our Captain as we went full speed, in what felt like we were flying over the waters of Lake Dora. The thrill was fantastic, and we thoroughly enjoyed it. Captain Todd told us about the Lake Side Inn, some of the famous houses in town; we admired very expensive mansions and looked for wildlife together. We spotted alligators, birds, and bald eagles. In some parts of the tour, we had to go in a single file line and very slow, and in some instances, we were free to speed up as long as we followed along. We enjoyed hearing about the history of Lake Beauclair, Lake Dora, and Lake Carlton. If you want to hear more about it, be sure to watch our video.
After an hour and a half of speeding through the waters of Mount Dora, we returned to the area right in front of the Lighthouse from where we had watched the sunset the night before. We were drenched in water but having a great time. The sun was starting to come down, and it was already a spectacle worth watching. From the water, we could see that the Lighthouse Park was packed with families and people enjoying the sunset. We, however, were sitting in what felt like front row seats to one of the most spectacular sunsets we've ever experienced. Everything around us radiated in a deep orange, yellow and red light. Mount Dora sunsets are definitely something worth making time for.
Back in town, most stores were already closed, but people were still enjoying life in the restaurants and common areas of the town. We were not hungry as we had eaten all day throughout the Farmer's Market and the coffee shops. Instead, we decided to go for ice cream. We followed the crowd to "Scoops on 5th". We each grabbed a cone and walked the town to the light of the moon.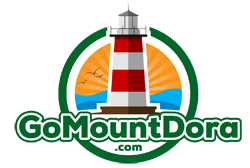 ---
Lakeside Inn & The BeauClaire Dining Room
Renniger's Antique Extravaganza
FYI Creations (A.K.A. The Coolest Store)